KCSC is the Royal Borough of Kensington and Chelsea's recognised voluntary sector 'infrastructure' organisation.
We support voluntary and community organisations (VCOs) through the provision of training, advice and information. We also facilitate the voice of the local voluntary and community sector (VCS) and represent the sector at a strategic level.
Read our Articles of Association
Read more about our services in our 'What we do' info sheet.
---
NAVCA Quality Mark
In recognition of our work to support the local sector we have been awarded a NAVCA Quality Award.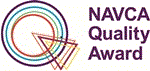 The National Association for Voluntary and Community Action (NAVCA) is a national umbrella body for local infrastructure organisations and achieving this award means we have met their rigorous standards for quality of service offered.
The award was subject to an external audit and is valid for three years.