Submitted by

Zina Serageldin

on Sat, 27/06/2020 - 12:06am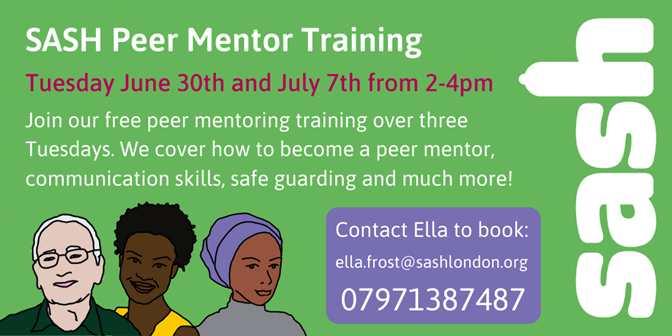 The SASH peer mentor training is for women who identify as Black, Asian or an ethnic minority of any kind and Gay and Bisexual men living with HIV.
There can be barriers which make it harder to connect. This is an opportunity to use your own experience to inspire, motivate and provide emotional and practical support for others.
This training might be for people who:
Want to learn more about sexual health
Already have an interest in sexual health and want learn more to support their community
Are living with HIV
Have experience of navigating sexual health clinics and services
Have experience of reproductive health such as periods, menopause, contraception etc
Benefits of the programme include:
Training
A personal development plan to support you to achieve your goals
Developing communication and workshop-giving skills
Gaining valuable experience working alongside sexual health professionals
Connecting with community
The training will be delivered by Ella Frost and Jose Tovar who are peer mentor coordinators and will cover:
An introduction to SASH
Sexual well-being
Communication skills
Who peer mentors are and what they do
Safeguarding
Please reply to this email ellie.forst@sashlondon.org to book a place of if you have any questions.