KCSC's Spotlight articles are produced regularly, each focussing on a different organisation working wholly or primarily within the borough. The articles are included in our e-bulletin and on our website. If you would like KCSC to feature your organisation in a Spotlight article please email info@kcsc.org.uk.
1. What is your organisation's name?
Action Disability Kensington and Chelsea (ADKC for short).
2. Can you describe what you usually do?
ADKC is the local Disabled People's Organisation, run by and for disabled people. We were founded in 1981 (the International Year of Disabled People). We provide a range of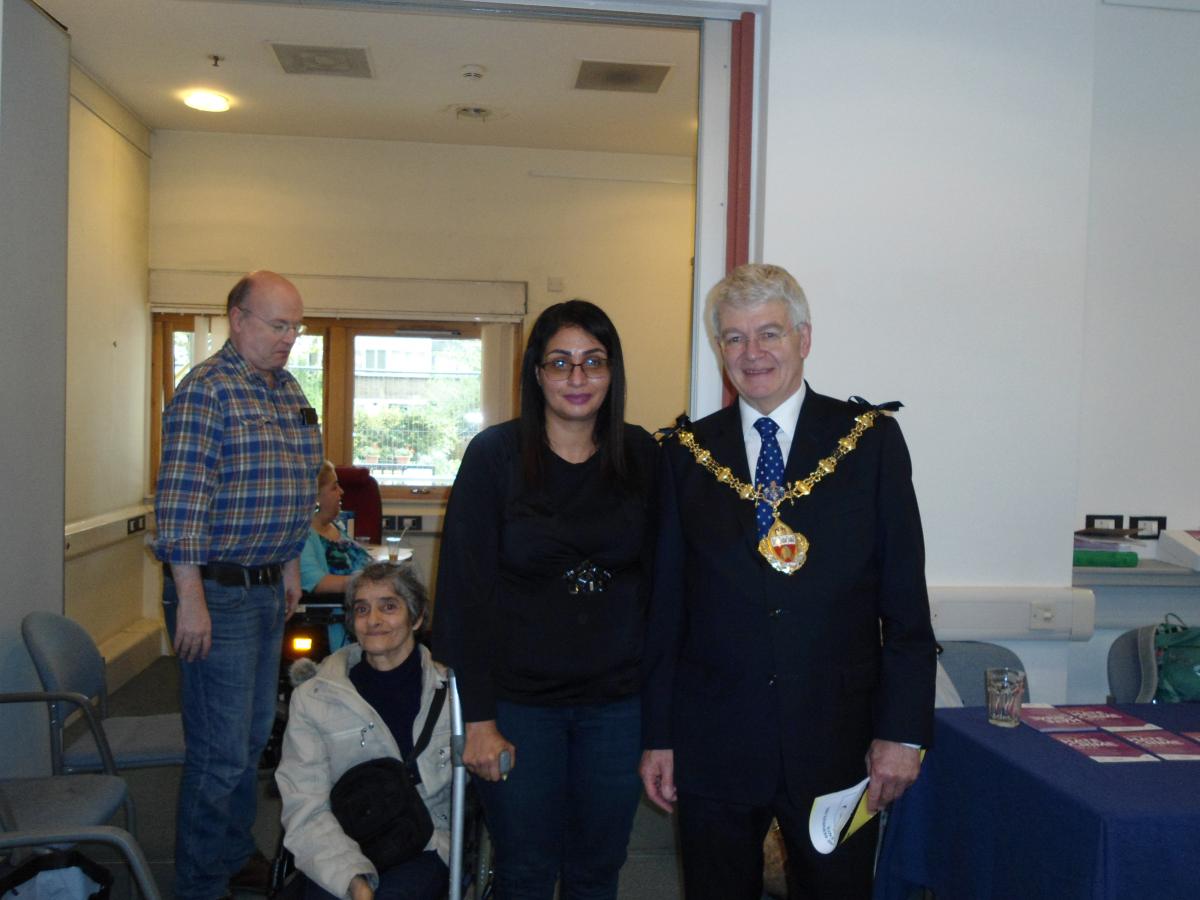 services, information, advice, groups, courses, meetings, advocacy and peer support for disabled adults who live or work in Kensington and Chelsea and who have physical, sensory or hidden impairments. We usually deliver all this from our purpose-built, fully accessible Centre in the north of the borough. We are also recognised as the voice of disabled people in the borough, campaigning to remove the barriers which prevent us, as disabled people, from accessing the things which non-disabled people take for granted. We provide a community hub, where local disabled people can come to support each other and get the support they need to go out into the community and live independent lives.
3. Can you tell us how you've had to change your normal services/activities?
We have moved all of our services, support, groups, meetings and courses to remote access, using Zoom video conferencing, telephone and email. All staff are working from home, although we are currently arranging to have a COVID-compliant risk assessment for our centre, as a first step towards reopening. I took the office mobile phone with me when we closed the office just before lockdown and arranged for calls to our office landline to be diverted to this number. For the first few months of the current crisis, I kept this phone on at all times and was able to support a number of local disabled people who called due to emergencies and crisis situations (and with no one else to turn to).
In response to the needs of our members, we set up a volunteer project, delivering food, prescriptions and other essentials to isolated local disabled people. We also introduced Welfare Calls, whereby each member of our staff team has a list of our members who they contact on a weekly basis and we amended the remit of our Disability Connect project (which usually supports isolated disabled people to get out into the community) to offer more intensive emotional support to those members who request it.
I think we can all learn from the changes imposed on us as a result of the current crisis. For years, disabled people have campaigned for greater flexibility from employers and service providers. Now everyone's getting the things we've often asked for (flexible working hours, working from home etc) and usually been denied. Hopefully this new flexibility will continue once the current crisis is completely over. Although we also need to make sure that this isn't used as an excuse by service providers not to bother to address access issues. We need to keep up the battle to make our community fully accessible for everyone (disabled people very much included!)
Please click here for ADKC's Newsflash this summer.
4. Tell us of a current achievement or something you're particularly proud of, at the moment?
I am particularly proud of our prompt and flexible response to the current crisis. Our members tell us that just having someone at the end of the phone prepared to listen made all the difference. Especially in the early stages of the crisis, when people were frequently experiencing high levels of fear and isolation and support of any kind was scarce.
5. Do you have a particular case study and quotes from the current lockdown period?
Ms A was a new self-referral to ADKC prior to lockdown and was assisted to complete a Personal Independence Payment (PIP) review form. She is housebound and was supported through home visits. We had started to complete her ESA review form when lockdown procedures were put in place, so a follow-up home visit to complete this by the deadline had to be cancelled.
With Ms A's consent, we contacted the DWP to check their policy on outstanding benefit forms where supporting organisations and Advice services were closed. We were able to reassure Ms A that the DWP were flexible about deadlines, her reasons for the delay were recorded and she has continued to receive her ESA.
A decision on Ms A's PIP was made based without further assessment, and her award was increased so that she now receives the maximum mobility and daily living rates, boosting her income. She also received a backdated lump sum of over £1,000 which she used to clear outstanding debts.
Ms A was signposted to debt advice for a review of her debt repayments plan and for further advice and support to manage her household budget.
Ms A's brother who is her carer became ill and had to self-isolate due to suspected covid-related symptoms, leaving her with no-one to cook meals or do her shopping, or to check on her. We supported her:

to register as clinically vulnerable on the dedicated COVID-19 website, so that she received food box deliveries through the RBKC emergency hub;
she was referred to the local Age UK/Chelsea FC cooked meals initiative and to ADKC's COVID-19 Volunteers Response project, so that she received daily cooked meals which she was able safely heat up in her microwave when well enough. (Ms A said that "without these meals, some days I wouldn't eat". She also said that the meals were healthy, portion size was just right, and packaged so that they were easy to manage and heat in a microwave).

Ms A was supported to fundraise for a replacement sofa bed, as the existing one was damaged when she fell against it during a seizure. This is where her brother sleeps when he stays overnight, when she needs extra support. We were successful in helping Ms A to raise funds to purchase a replacement, liaising with the charity funder to help her select a safe and robust replacement, and there was enough left over for Ms A to purchase a matching armchair for her brother to sit on.
Ms A is on our list of ADKC members who wish to receive regular welfare calls to check that she is safe, which she has said reassures her during lockdown.
Outcomes:
Ms A received emergency cooked meals and food deliveries when needed.
Ms A continued to receive her disability benefits and her benefit income has increased.
Ms A's anxiety and feelings of being extremely vulnerable during lockdown have been reduced as a result of her contact and support from ADKC.
Safeguarding issues have been avoided through her engagement with ADKC's Information and Advice and COVID-19 Volunteers Response projects.
Please click here for ADKC's September Newsflash.