KCSC's Spotlight articles are produced regularly, each focussing on an organisation working wholly or primarily within the borough. The articles are included in our e-bulletin and on our website. If you would like your organisation to be featured please email info@kcsc.org.uk.
1. What is your organisation's name?
Open Age
2. Can you describe what you usually do?
Open Age is a charity that provides 350+ diverse weekly activities for older Londoners. Our programme has three broad categories – Arts, Culture & Social; Learning & Skills, and Physical Activities. Each session acts as an entry-point into a supportive and resilient community of 4,500 members aged 50 to 104, and FUN is at the centre of Open Age's philosophy.
Being a part of Open Age's self-made community directly mitigates the effects of isolation and loneliness, a lack of work and volunteer opportunities, poor physical health, and a range of mental health conditions in the over 50s age group.
3. Can you tell us how you've had to change your normal services/activities?
At the beginning of the pandemic in March of this year, and following the closure of centres and the suspension of in-person activities, Open Age undertook 6 weeks of telephone engagement with 4200+ of our members to ensure their immediate and emergency needs were being met. These conversations revealed a real need for our staff to develop a version of their pre-existing activities, to ensure the community remained happy, healthy, and socially connected during a time of fear and isolation.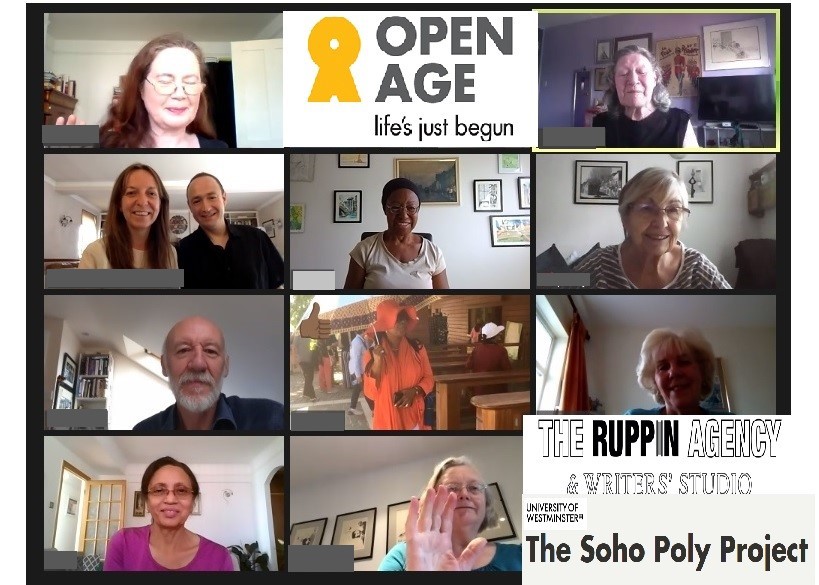 After 3 weeks of trial sessions with around 90+ members, our team swiftly created a remotely accessible version of the existing programme; from 0 to 100+ hours of telephone and Zoom activities in a month. Members can choose between a diverse range of Arts, Culture & Social, Learning & Skills, and Physical activities, all of which have been tailored to support older people to maintain their emotional wellbeing and physical health from the safety and security of their own homes. Over 1000 Open Age members are currently engaging with the remote programme, with numbers growing by the week.
4. Tell us of a current achievement or something you're particularly proud of, at the moment?
Dance-a-thon; a Silver Sunday Event 2nd October 2020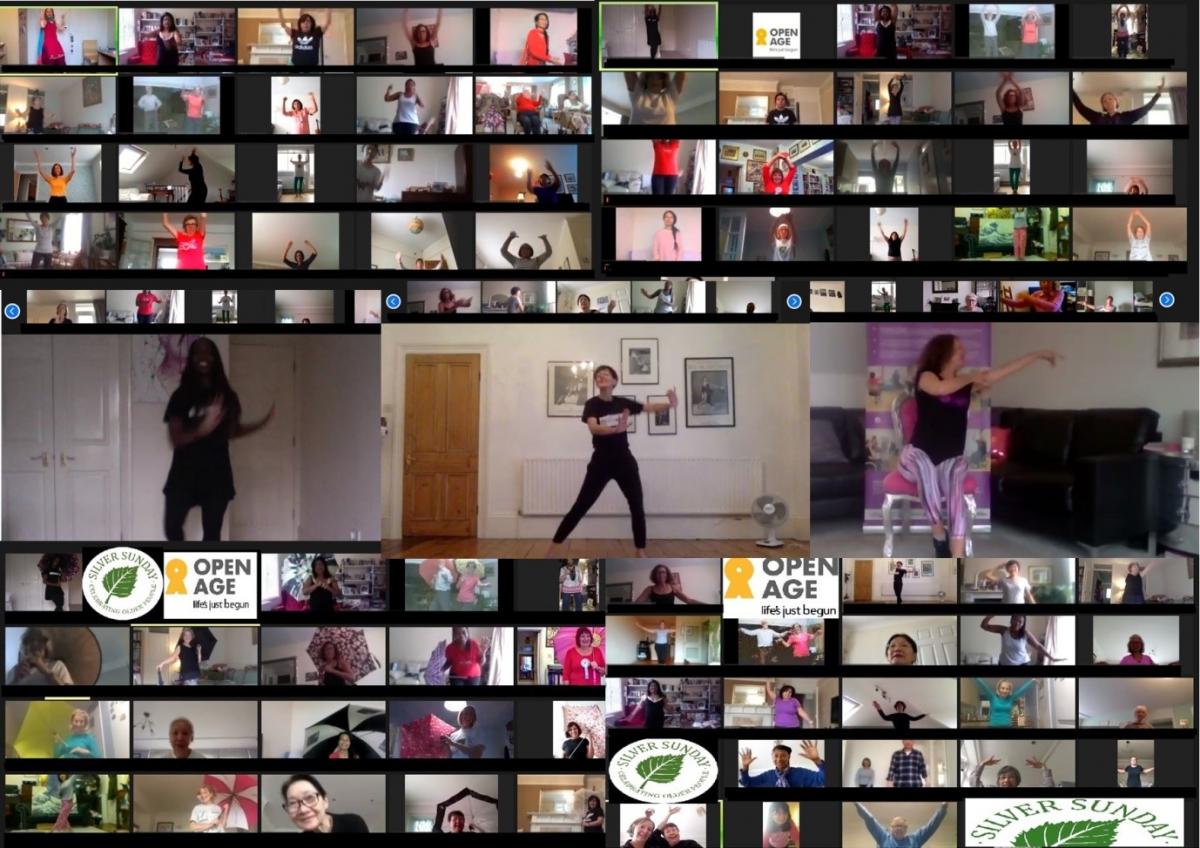 Over 70 members grabbed their dancing shoes and joined us Online for six 'fab-u-lous' hours of dance classes with the best instructors and fantastic music! Celebrating the 50+ community! Open Age teamed up with Dance West and Step Change Studios for the Silver Sunday online event; the classes incuded; DanceWest to the Movies, Bollywood with Step Change Studios, Tap Dance, Seated Sosa Dance Fitness, Disco Fever, Jump 'n' Jive with DanceWest.
Feedback quotes on the event:
"Thank you very much to you and all the team at Open Age for organising this event. I thoroughly enjoyed them especially the last class. Such fun. All the best." (66)
"I would like to thank you, and the rest of the team, very much for organising this Danceathon day. It has been absolutely brilliant. The content as well as the instructors have been really good. Geoff and I thoroughly enjoyed it, especially that we have been missing those kinds of dancing in recent times." (71)
"Thank you for such a fun Dance a Thon Friday. It was totally enjoyable and full of energy. Just loved the Jump and Jive, Tap and all of the dances which I attended. All the teachers were just wonderful. Looking forward to the next one!" (New member)
5. Do you have a particular case study and quotes from the current lockdown period?
JK (65) exerts from email sent to Open Age Chief Executive:
"Dear Mr. Cassidy I have just donated to Open Age and wanted to follow up with my thanks.
The Open Age classes have not only helped keep me in touch with human beings during this wretched period of isolation where we find ourselves, but the Open Age courses are also among the best courses I have ever taken--and I have taken many courses in my life.
The best single class I have taken in my life is without question was last Friday's Philosophy Writing class with Tim Beardsmore-Grey. All of his classes have been great, but this single class was tremendous. It was one of the best writing classes I have taken. I have also taken the Memoir Writing class with Emma Claire Sweeney and Jonathan Ruppin. There are four sessions in the course, each 90 minutes. Thanks to them, I can write my memoir in some confidence that I am on the right track. But apart from how their course resonated with me, it simply is an outstanding course.The third course I have taken at Open Age is Life Stories with Julie. Through attending her weekly, one-hour sessions, the creative writer within me has been truly unleashed.The reason those three courses stand as the top three courses of my 65 years of life, may be partly because I am mature enough now to appreciate tuition in courses of any kind. If so, all the more vital it is to keep "old folk" such as me connected to life-long learning.
It has also been thrilling to hear other people in the Open Age groups speak, and to read their writing. Perhaps one of the things that I discovered in the Open Age courses is that there are voices and stories unique to the individuals of my generation but which add up to something greater than the parts.
In short, I wanted to thank you. When I expressed similar ideas to my Open Age philosophy class, I believe I saw many heads nodding. A few people clapped their hands. I thought as a birthday gift to myself I would take the time to share my ideas, partly to thank Open Age as a charity, including the teachers and coordinators and fund raisers and whole coterie of energic people behind it. I also wanted to express my thanks to cast my vote that Open Age's work is vital, should continue, must continue, and if possible, expand."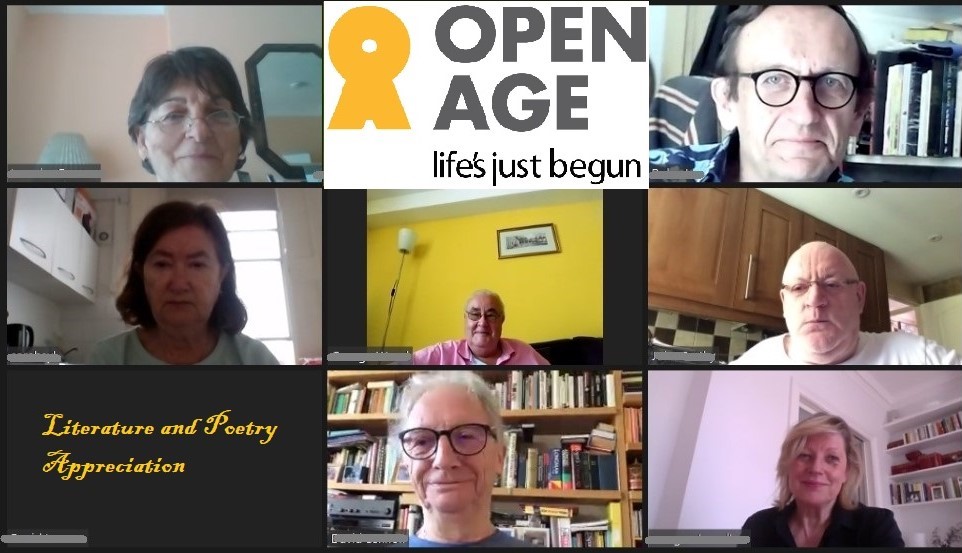 Please visit OpenAge website for more information.