KCSC's Spotlight articles are produced regularly, each focusing on an organisation working wholly or primarily within the borough. The articles are included in our e-bulletin and on our website. If you would like your organisation to be featured please email info@kcsc.org.uk.
1. What is your organisation's name?
Local Exercise Groups for Stroke & neurological conditions (LEGS)
2. Can you describe what you usually do?
Prior to Covid-19, LEGS successfully provided two physiotherapist-led supported exercise groups for people with neurological conditions, such as stroke, head injury and Parkinson's disease. The participants received a discussion session, covering a range of topics about living with a neurological condition, self-management and lifestyle education. Participants then completed an hour of supported exercise which consisted of evidence-based circuit exercises, working on balance, strength and cardiovascular fitness. These were all face-to-face groups in a private studio in Westminster. These groups could not continue running during the March-July 2020 activity restrictions, due to Covid-19.
3. Can you tell us how you've had to change your normal services/activities in response to Covid-19?
As a result of Covid-19 we moved our groups online. We liaised with specialist speech and language therapists and established that Zoom was the easiest platform for clients living with aphasia to use for interactive groups. We moved our classes online starting with our original two classes on a Monday and Tuesday afternoon. Due to the success of our online groups, we have expanded our programme and now at the time of reporting (January 2021) we are running a total of 9 online groups; 8 exercise groups and a social / education group, our Neuro Café: https://www.legs.org.uk/ourgroups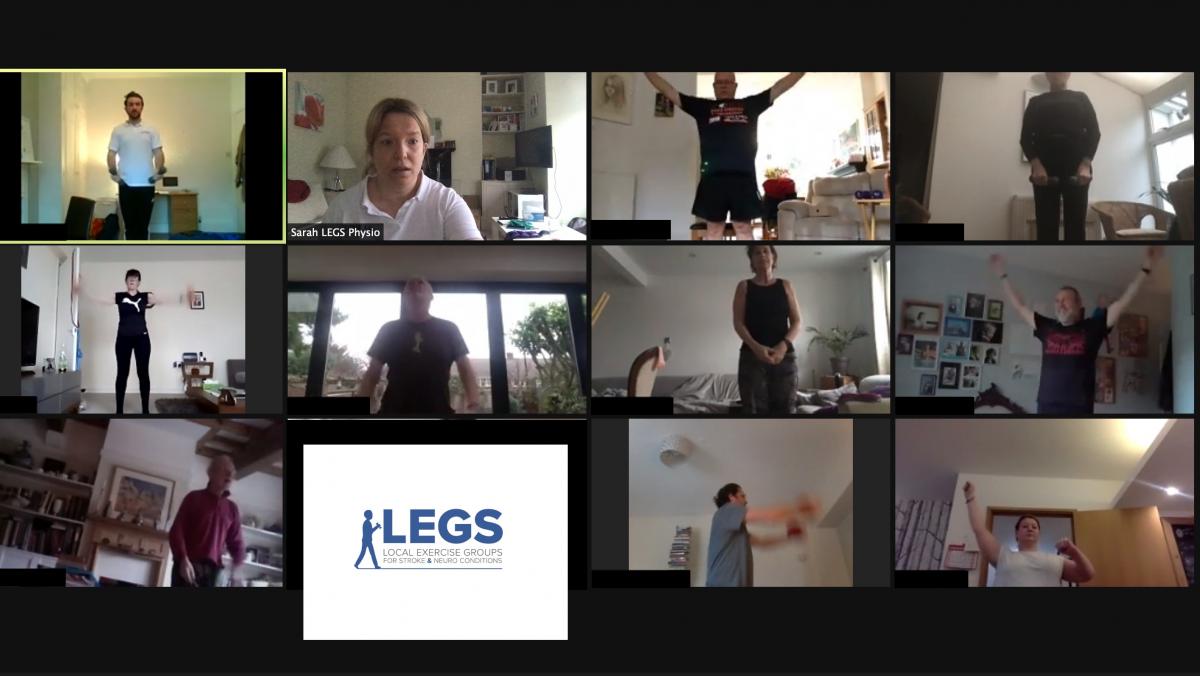 4. Tell us of a current achievement or something you're particularly proud of, at the moment?
We've had many milestones and achievements this year which we as a charity are very proud of. One of the most significant to us was that every participant in our first "LEGS Move" online group got stronger doing two classes a week with us on Zoom. During the first lockdown we chose to evaluate the feasibility and effectiveness of our online exercise groups and assessed people evaluating a range of physical and quality of life outcome measures over a 12-week period. We were thrilled to be selected to present our results at the UK National Stroke Conference in December 2020. This graph depicts that every stroke participant gained lower limb strength improving their ability to rise from a chair.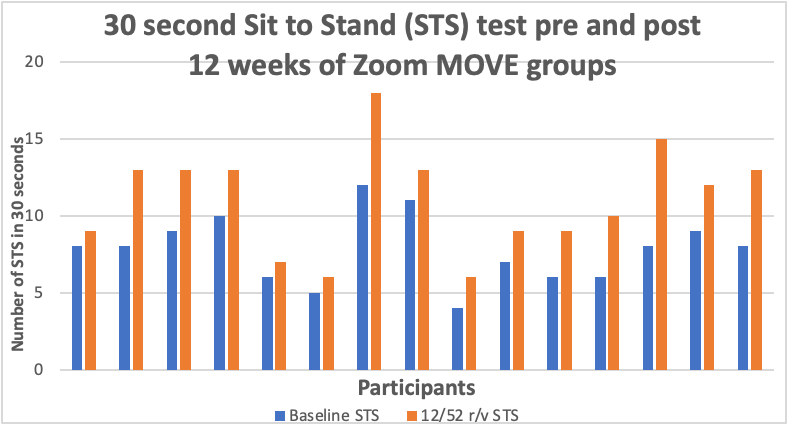 The LEGS team's perceived benefits of online groups include:
Participants were able to exercise in a supervised manner during lockdown and beyond.
Participants attended groups run by specialist physiotherapists and received high quality neuro rehabilitation
LEGS community maintained and grew WhatsApp groups for each group facilitated sharing of resources and encouraging peer support and discussion
Classes were run at the same time as the original face to face groups, which participants benefited from as it gave them a sense of their usual routine
Summary of feedback from Microsoft Forms Survey of participants post 12/52 of online groups:
"Excellent, friendly, efficient, motivating"
"I found then very helpful, and have kept me on my feet "
Participants were asked what the advantages/ positives of an online class were:
"Motivated movement and a focal point of the week"
"Removes the hassle of travel and saves time"
"The advantage is that you see the physiotherapist and the other stroke sufferers all performing the exercises, and it helps me in doing them properly as well as it gives me a sense of belonging, being part of the group online".
5. Do you have a particular case study and quotes from the current lockdown period?
Mr G, a 78-year-old male, attended our face to face sessions in the studio from March 2020 following a stroke in December 2019 which left him with left sided weakness, reduced balance, increased fear of falling and decreased ability to integrate within his community due to his physical deficits. Mr G was referred to LEGS by his Westminster community neuro rehabilitation team once their NHS service had ceased. They felt LEGS would allow him to achieve his ongoing goals and increase his physical and mental well-being.
Mr G was very motivated to continue to exercise but he did not have access to technology to support online platforms. We were able to loan him a tablet kindly provided by a grant from the Edward Harvist trust, which allowed him to access Zoom and other technology used to support the groups. The LEGS team ensured through one-to-one sessions for a number of weeks that he was familiar with the technology and became fully integrated into the online groups. He went from strength to strength and became known as the "Duracell bunny" as he worked so hard in his lockdown classes. He made significant improvements in strength, balance, emotional well-being and his fear of falling decreased allowing him to go out for a daily walk on his own which he was thrilled by. He felt supported by the LEGS team but importantly by his peers and the community in which he exercised with and did not miss one session.
Mr G gained technology skills which then allowed him to connect with other friends and family over the lockdown and tiered restrictions and this positively impacted upon his mood and well-being.
Mr G returned to the studio face to face sessions in September with the therapists wearing personal protective equipment and he loved being back to face to face classes and the interaction. However, he felt confident about once again exercising online when the face-to-face classes ceased in January 2021 due to the national restrictions and credits LEGS with the significant gains he has made. He truly believes that without the online groups and zoom he would have deconditioned and become much more socially isolated and says a BIG THANK YOU to the team at LEGS and to his fellow participants.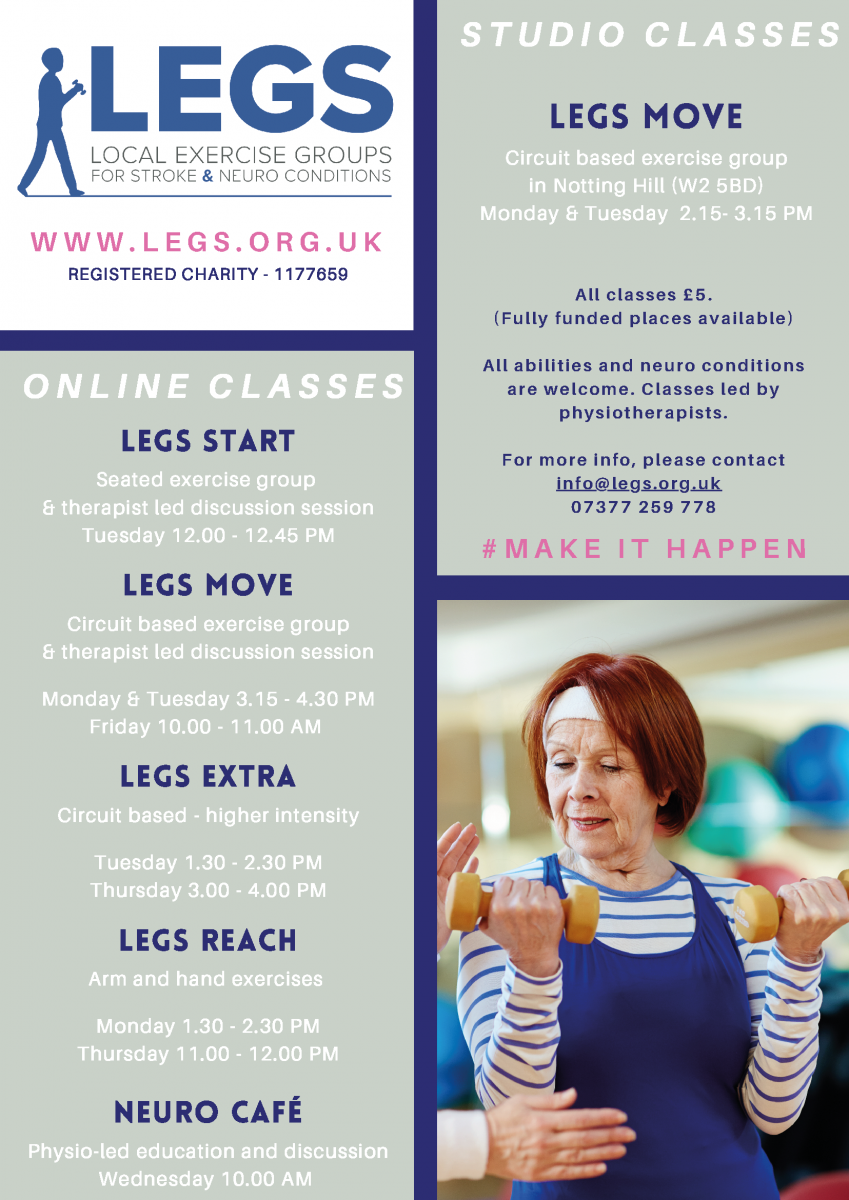 Please visit LEGS website for more information.