KCSC's Spotlight articles are produced regularly, each focusing on an organisation working wholly or primarily within the borough. The articles are included in our e-bulletin and on our website. If you would like your organisation to be featured please email info@kcsc.org.uk.
1. What is your organisation's name?
Carers Network
2. Can you describe what you usually do?
Carers Network is an independent charity that has been supporting unpaid carers in Central London for nearly 30 years.
A carer is someone who provides help and support to a partner, relative, friend or neighbour who could not manage without this help. They might need help because of an illness, disability, mental health problem, addiction or dependency – or they may be an older person needing additional support.
1 in 8 adults in the UK is an unpaid carer and a huge three out of five of us will become a carer at some point in our lives. Every year more than two million people become carers in the UK.
Anyone can become a carer – even overnight if a family member is in a bad accident or suddenly taken ill. Sometimes caring responsibilities increase over time.
Carers Network supports 5,500 unpaid carers over the age of 18 looking after adults who live in the Royal Borough of Kensington and Chelsea, the City of Westminster and the London Borough of Hammersmith and Fulham.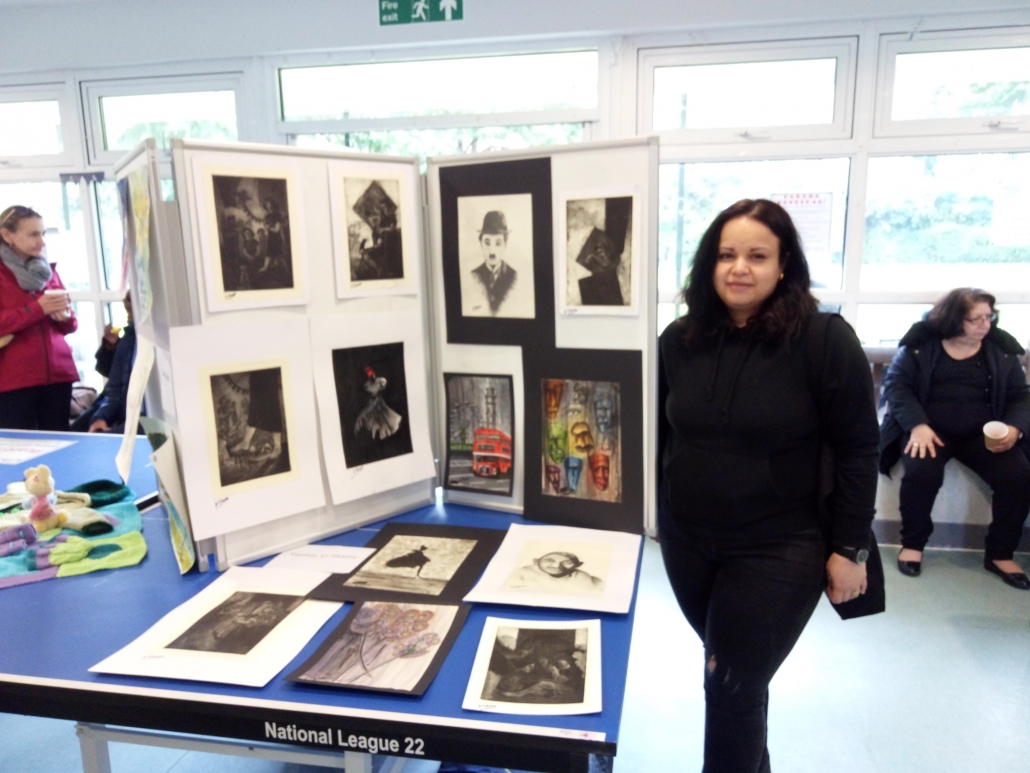 (Local carer Yasmin with her artwork at Carers Network's 2019 Carers Week Carers Festival when we could all get together in person. Carers have recently been sharing their creativity at online art classes.)
3. Can you tell us how you've had to change your normal services/activities in response to Covid-19?
Since late March 2020 and the introduction of pandemic restrictions, Carers Network has carried out all carer consultations and assessments by phone as it has not been possible to meet in person. Throughout this time, Carers Network has also run a very busy programme of free online and telephone activity groups for local unpaid carers – delivered by staff, volunteers – and carers themselves!
In 2021 the telephone groups will continue, featuring sessions on food discussion, creative writing and poetry appreciation. Carers who do not have access to a computer or reliable broadband – or who are just put off from joining online Zoom sessions - can call in and enjoy these activities.
Other online carer groups returning this year on Zoom include yoga, art classes and mindfulness – whilst we will also be delivering pilates, photography, zumba and group exercise sessions. All these free groups are a great way for local unpaid carers to relax, try new activities, catch up with fellow carers and have a break from their demanding caring role.
Throughout last year, Carers Network also had a varied programme of online carer training covering health, benefits and future care planning.
Carers Network's full calendar of activities, training and online carer meetings can be accessed here:
https://carers-network.org.uk/online-programme-of-events/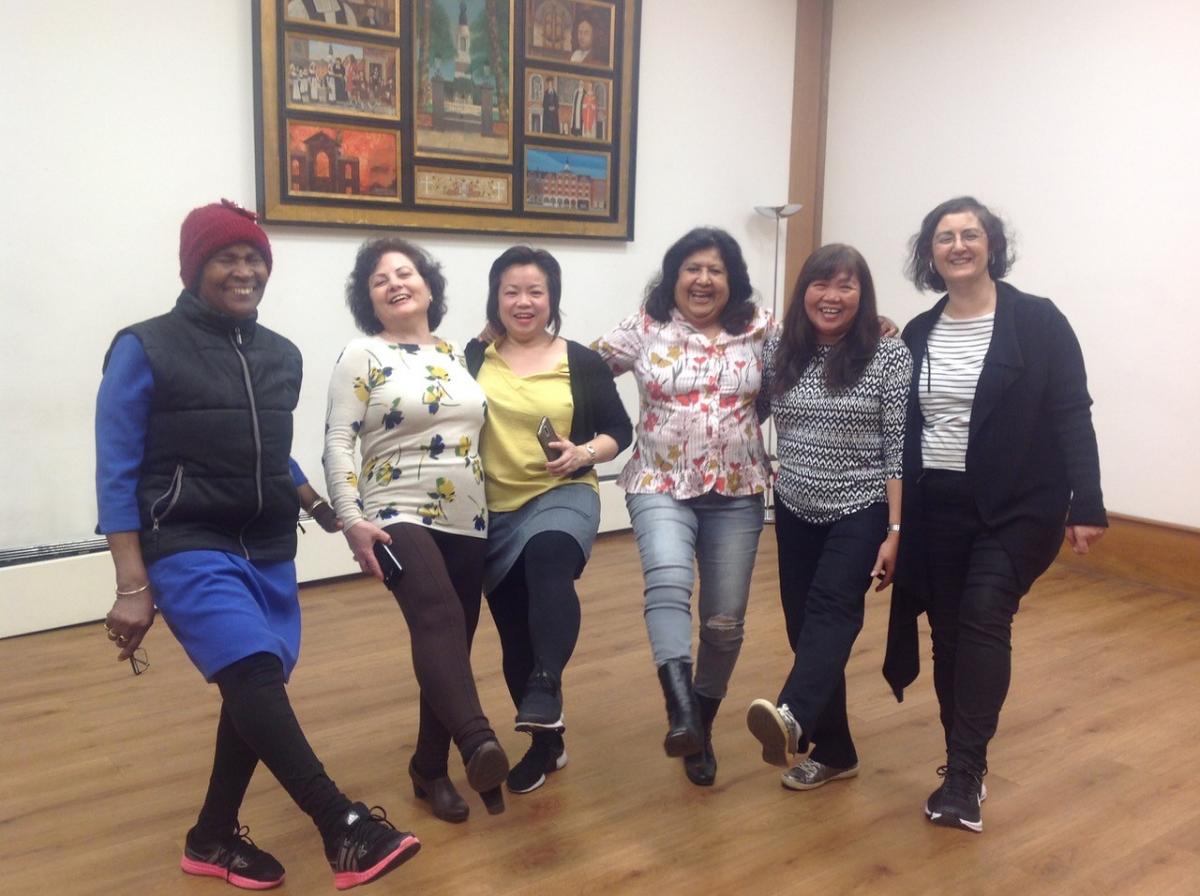 (Carers enjoying a line dancing session prior to current restrictions.Carers Network's Carers Week activities last year included an online line dancing class led by a carer who is an acclaimed professional choreographer!)
As well as moving all our services to online delivery, we were very aware that lockdown had highlighted the problem that digital exclusion had and still does represent for many carers, especially older people and those with no access to technology. To address this, we made over 1,200 welfare calls during the first lockdown which were a lifeline for some carers who were struggling to get basic necessities. These carers were often also feeling incredibly isolated with no opportunity to take a break from their caring role, so the opportunity to talk to a member of the team who could connect them with local community support networks was a great help.
4. Tell us of a current achievement or something you're particularly proud of, at the moment?
The pandemic has been tough on us all, but particularly so for unpaid carers.
Carers have shown their continued resilience and adaptability by adopting new technologies during the lockdown and engaging with our regular online groups.
Due to Covid-19 there has also been a huge increase in the number of unpaid carers – many of whom don't necessarily see themselves as a 'carer'. They see their role as just something they would naturally do as a loving mother, father, son, daughter, family member, friend or neighbour. As a result, they are missing out on vital help and support.
We hope to reach out and connect with more of these carers from diverse communities across central London through our new 'Carers Found' project that we are very excited to launch after securing funding from The Garfield Weston Foundation and The City Bridge Trust.
5. Do you have a particular case study and quotes from the current lockdown period?
Case Study 1: Local carer Saida engaging with new technology and getting support they would not have otherwise accessed
Local unpaid carer Saida, who cares for her husband, recently attended one of Carers Network's new online carer groups. She was able to speak to a caseworker and get information with regards to an application she needs to make to her local council for a carers' emergency card. She was also able to chat with fellow carers which she can't normally do. "I enjoyed it and it was very good for me. I have two babies so it made it easier for me to do it online this way as I couldn't go to the groups before and leave my husband'. Despite not having used an online platform for such a meeting before, Saida found the technology easy to use and will be joining other Carers Network online groups in the future.
Quotes:
1. "If it wasn't for organisations like Carers Network we'd get no recognition. The support Carers Network provides is essential and it's great to know they are there for us when times get really tough." Local carer
2. "Carers Network is wonderful and I'm very grateful for the help and support they provide. I have also been able to enjoy social activities through them" Local carer
3. "I'm really pleased with the support that I've received from one of your staff who carried out an assessment on me. At that time I was in deep despair, feeling quite unwell and confused. Following the outcomes of the assessment – with the support in place, my life is dramatically picking up." Local carer
4. "I'm not really a chatty person, but I was brave enough to go on Zoom. It was really nice to talk to someone rather than being alone with a book and to see different faces apart from same ones I see at home and work. I was also able to ask about my next Carer's Assessment which has now been arranged for me." Local carer Iwona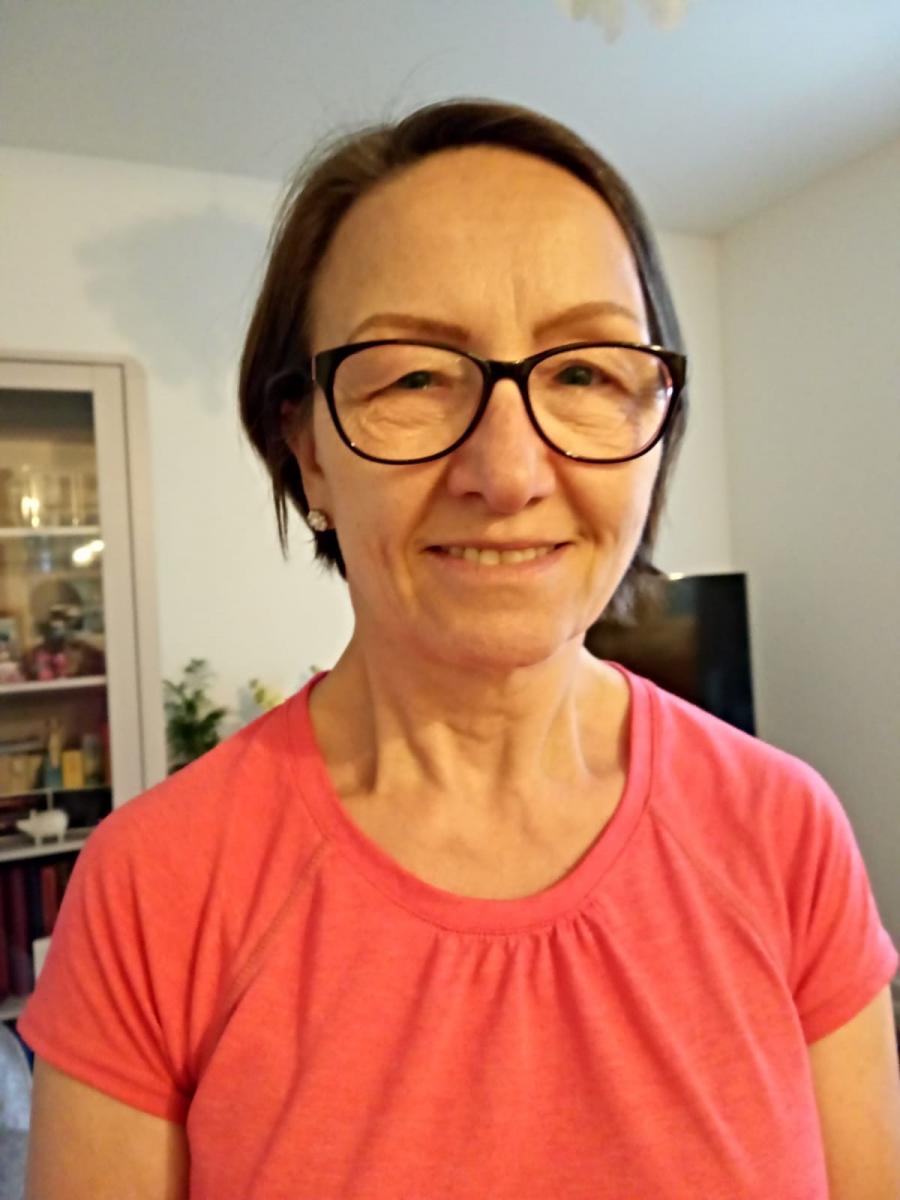 5. "I enjoyed the groups very much and will continue to join them. I'm loving them, especially the make-up session where I learned a lot. They are fantastic and I'd like to keep going!" Local carer Rosita.
7. "It was the first time I'd ever been able to attend anything as I was until recently in full time employment. I enjoyed listening and hearing the concerns of others and found it helpful. I hope to join in future sessions and look forward to taking part in one of the Carers' Quizzes!" Local carer Trudy
Please visit Carers Network website for more information.