Please note this information was superseded by the New National Restrictions which look effect on Thursday 5 November and will end on Wednesday 2 December 2020.
At midnight on Saturday 17 October 2020 London was moved to Covid Alert Level - High.
The following additional measures are now in place:
People must not meet with anybody outside their household or support bubble in any indoor setting, whether at home or in a public place.
People must not meet in a group of more than 6 outside, including in a garden or other space.
People should aim to reduce the number of journeys they make where possible. If they need to travel, they should walk or cycle where possible, or to plan ahead and avoid busy times and routes on public transport.
Existing nationwide measures:
All businesses and venues can continue to operate, in a COVID-19 Secure manner, other than those that remain closed in law, such as nightclubs.
Certain businesses selling food or drink on their premises are required to close between 10pm and 5am.
Businesses and venues selling food for consumption off the premises can continue to do so after 10pm as long as this is through a delivery service, click-and-collect or drive-thru.
Schools, universities and places of worship remain open.
Weddings and funerals can go ahead with restrictions on the number of attendees.
Organised indoor sport and exercise classes can continue to take place, provided the Rule of Six is followed.
People must not meet in groups larger than 6, indoors or outdoors.
Full guidance on Local COVID alert level: high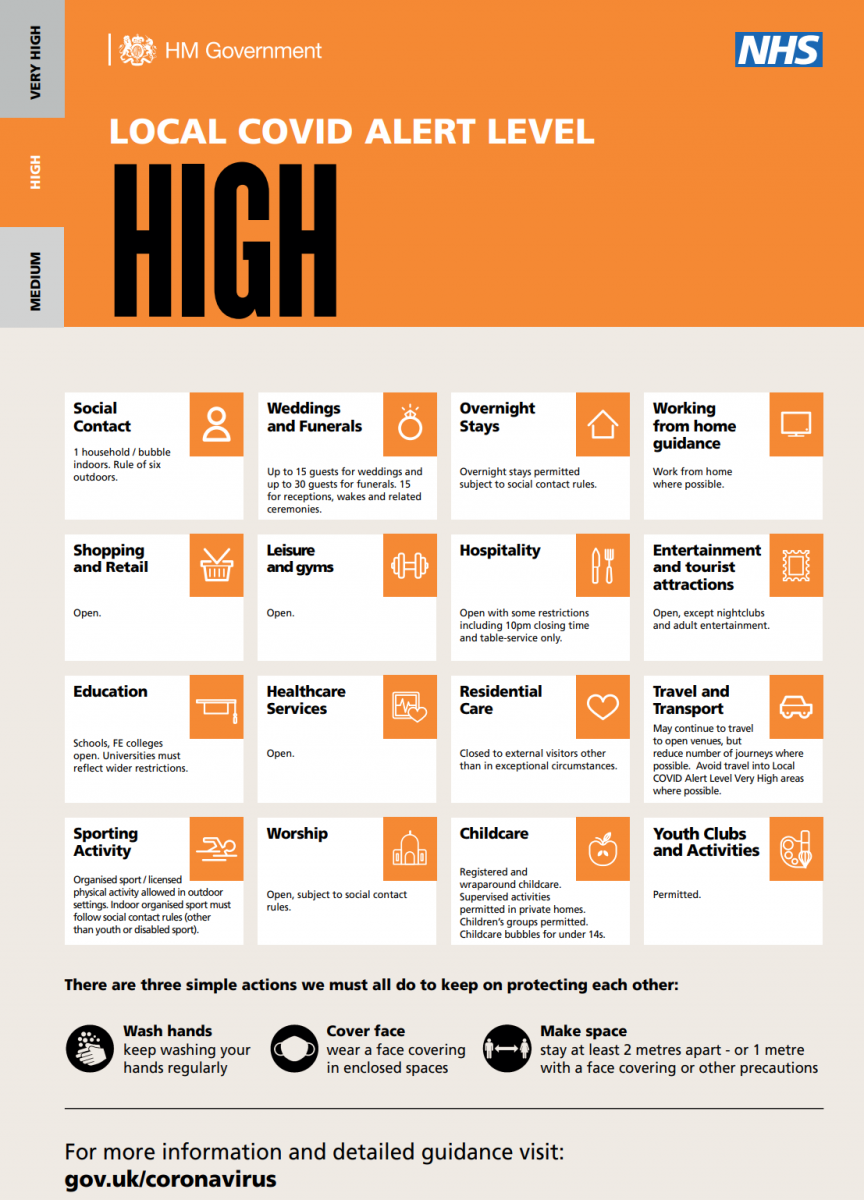 Outdoor hospitality
Outdoors, you can meet in groups of up to 6 people. This includes in:
pubs and restaurants
shops
leisure and entertainment venues
places of worship
Exceptions to indoor gathering
There are exceptions where people from different households/bubbles can gather beyond the limits set out above. These exceptions are:
for work, volunteering to provide voluntary or charitable services (see guidance on working safely in other people's homes)
for registered childcare, education or training
for arrangements where children do not live in the same household as both their parents or guardians
for prospective adopting parents to meet a child or children who may be placed with them
for supervised activities provided for children, including wraparound care (before and after school childcare), youth groups and activities, and children's playgroups
for birth partners
to see someone who is dying
to provide emergency assistance, and to avoid injury or illness, or to escape a risk of harm
to fulfil a legal obligation, such as attending court or jury service
to facilitate a house move
for a wedding or equivalent ceremony and wedding receptions where the organiser has carried out a risk assessment and taken all reasonable measures to limit the risk of transmission of the virus – up to a maximum of 15 people (not to take place in private dwellings)
for funerals – up to a maximum of 30 people. Wakes and other commemorative events are permitted with up to 15 people present (not to take place in private dwellings)
for elite sportspeople and their coaches if necessary for competition and training, as well as parents or guardians if they are a child
for outdoor exercise and dance classes, organised outdoor sport, and licensed outdoor physical activity
indoor organised team sports for disabled people, and youth sport
support groups of up to 15 participants – formally organised groups to provide mutual aid, therapy or any other form of support (not to take place in private dwellings)
protests – if organised in compliance with COVID-secure guidance
Shielding
Anyone who is clinically vulnerable:
can go outside as much as they like but they should still try to keep their overall social interactions low
can visit businesses, such as supermarkets, pubs and shops, whilst keeping 2 metres away from others wherever possible or 1 metre plus other precautions
should continue to wash their hands carefully and more frequently than usual and maintain thorough cleaning of frequently touched areas in their home and/or workspace
Businesses
Existing measures under medium continue to apply, with the addition that:
businesses and venues must ensure people do not meet in their premises with people from outside of their household or support bubble
Going to work, schools, universities
Restrictions under medium still apply.
Care homes
The advice is to not visit a care home except in exceptional circumstances, for example to visit an individual who is at the end of their life.
Sport and physical activity
You can take part in sport and physical activity outdoors.
Organised indoor exercise classes are only permitted if it is possible for people to avoid mixing with people they do not live with or share a support bubble with.
There are exceptions to enable disability and youth sport and physical activity indoors, in any number.
Information published on www.gov.uk website on 12 October 2020
Useful links to updated guidance:
- Guidance on shielding and protecting people who are clinically extremely vulnerable from COVID-19 - Updated 15 October 2020
- Working safely during coronavirus (COVID-19) - Updated 15 October 2020
- Coronavirus (COVID-19): safer travel guidance for passengers - Updated 14 October 2020
- COVID-19: Guidance for the safe use of multi-purpose community facilities - Updated 13 October 2020
- Stay at home: guidance for households with possible or confirmed coronavirus (COVID-19) infection - Updated 9 October 2020