KCSC's Spotlight articles are produced regularly, each focussing on a different organisation working wholly or primarily within the borough. The articles are included in our e-bulletin and on our website. If you would like KCSC to feature your organisation in a Spotlight article please email info@kcsc.org.uk.
1. What is your organisation's name?
Family Friends is a registered charity set up in 1993 to support disadvantaged families. Our website is https://www.familyfriends.uk.com/
2. Can you describe what you usually do?
Through a network of trained volunteers we provide befriending and mentoring services. We help families living in Kensington & Chelsea, Hammersmith & Fulham and South East Brent.
3. Can you tell us how you've had to change your normal services/activities?
Family Friends is continuing to provide our mentoring and befriending service electronically, with families receiving support by telephone and email each week from their allocated volunteer or staff member. We are publishing and providing families with a fortnightly newsletter containing information about resources, activities and recipe ideas.
Family Friends is also running a Shop & Drop service where our befriending and mentoring volunteers or staff, are carrying out a shop and delivery of essential items for housebound and shielding families. We also carry out prescription collections.
4. Tell us of a current achievement or something you're particularly proud of, at the moment?
Family Friends raised funds to carry out 'free Shop & Drops' up to the value of £40 each for families who were identified as being particularly financially vulnerable. To date a total of 100 Shop & Drops have been carried out. A survey was held to gain feedback on the scheme to which 29 responded where 27 families said the Shop & Drop Scheme was 'very useful' and 27 families said the scheme was 'very beneficial to the health of their family'.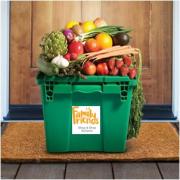 5. Do you have a particular case study and quotes from the current lockdown period?
9-year-old P lives with their mum, two younger and two older siblings. P's older siblings are both of working age but not in education, employment or training. P is shy and often gets overshadowed by their siblings, one of whom is autistic and needs additional support. P is struggling at school and attaining below expectation. P's mum finds it hard to give the extra focus needed and has her own health issues.
P was matched to a volunteer mentor in November 2019 who visited P every week. Their focus was initially to get to know each other. The mentor did some projects with P, including an 'all about me' book, a 'feelings' box as well as crafts to decorate the box and book. They also spent part of the visit each week reading, and doing a page on maths and English from the workbooks the mentor brought. P enjoyed the weekly focus and how it gave time just for them-self. P is a keen dancer so the mentor helped the family research local dance groups and was able to find P a subsidised ballet group which they started attending every Saturday.
Visits have stopped since lockdown, but contact continues. The mentor has been ringing the family weekly to check in with them and giving support with schoolwork. Mum, who struggled to get out of the home prior to lockdown, has recently got a bike and has managed to cycle to visit her family who lives locally. The children have been playing in the back garden, but not further. Mum has greatly appreciated support from Family Friends' Shop and Drop Scheme which has provided a free shop, directly delivered to the family home.
Here are some quotes from families that have recently received a Shop & Drop.
'So happy that this was available as it is very hard for me to get out. Really really helpful.'
'This has been really helpful. I have two young children plus their health needs which means we can't go out.'
'Really helpful. Information was very good. One of the best things we've used and helped with my anxiety.'
Please click here for more information on the work Family Friends do.