KCPIN launched a major piece of work on affordability and standards of renting in the private rented sector (housing) following consultation with our members on what issues matter to them.
The private rented sector is now home to almost a third of the population in London. it is less common than home ownership but houses more people than social housing. The Royal Borough has one of the greatest concentrations of private renting in London.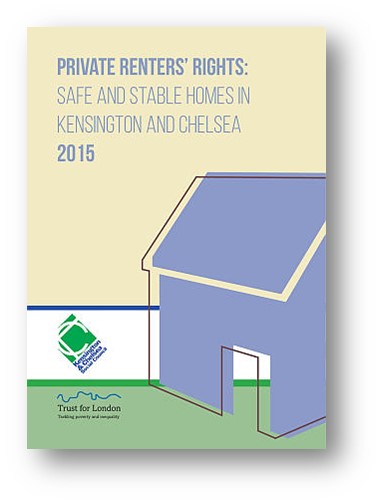 Our research, in 2015, asked 230 tenants living locally in the Royal Borough about their experience with the cost of renting and the conditions of their homes.
Across England, in the last decade, rents have risen twice as fast as wages. Average rents in the Royal Borough (£1212 per month) are significantly higher than average for London (£800). In our research, 33% of tenants told us that they were unable to afford to pay for other essentials after paying rent. The true cost of renting in the Royal Borough means that resident on low to middle income are unable to have an affordable lifestyle.
The cost of renting is not the only difficulty faced by tenants. Poor housing conditions are affecting a cross-section of tenants living in the private sector. In London, around a fifth of PRS homes fail to meet the Decent Homes Standard, meaning many renters live in dangerous and hazardous conditions. Our research also found, 1 in 3 tenants reporting that their home did not meet their expectations regarding its conditions.
Download a copy here (PDF 517kb)
Key recommendations from our report
Following the report launch, we wrote to the Leader of the Council, outlining four of our major policy recommendations. You can read the briefing here.
What the campaign has achieved so far:
The research was supported by over 230 tenants, and over 40 local charities, and local politicians.
The final report was endorsed by many high-profile think tanks, academics, NGO's and local charities. Read our report endorsements here.
The report and campaign launch was attended by 40 individuals, and five local politicians, including MP Victoria Borwick, who committed to campaigning on housing affordability.
KCSC's report and recommendations were welcome by the Leader of the Council, who has committed to look further into some realistic policy solutions we set out.
How to get involved
If you are interested in getting involved in campaigning activities, read more about joining the KCPIN, or alternatively email Amina Khatun